"Could you keep watch for one hour?" Mark 14:37
Adoration Chapel
Sacred Heart Eucharistic Adoration Chapel
Sacred Heart Church
200 S. Peters (corner of Peters and Western Avenues)
Fond du Lac, WI 54935
Chapel hours:
Sunday-Saturday 5:00 am to 10:00 pm
"Each one of us is a co-worker of Christ – we must labor hard to carry Him to the hearts where He has not yet been known and loved…But, unless we have Jesus, we cannot give Him; that is why we need the Eucharist. Spend as much time as possible in front of the Blessed Sacrament and He will fill you with His strength and His power."
– Blessed Mother Teresa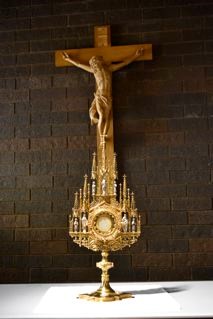 Welcome to the Eucharistic Adoration Chapel page of Holy Family Catholic Community. Jesus can physically be adored in the most Blessed Sacrament. Come and spend time as frequently as you are able to in the presence of Our Savior and watch Him transform your life!
Eucharistic Adoration, "is a devotional practice of adoring and praying in the Real Presence of Our Lord Jesus Christ in the Holy Eucharist." The Eucharist is displayed in a special vessel called a monstrance, and Adorers are present with Jesus at all times when the chapel is open.
In addition to Sacred Heart, adoration takes place at the following Holy Family Catholic Community sites:
St. Mary, 59 E. Merrill Ave., from 7:00 to 8:00 every Friday. Mass follows at 8:00 pm. Adoration and Confession will take place primarily in Spanish.

 

La parroquia Holy Family te invita a una hora de Adoración ante Jesús Sacramentado desde las 7:00 p.m. a 8:00 p.m. cada to viernes de mes.Iglesia de Santa María. St. Mary, 59 E. Merrill Ave. FDL.

 

Habrán confesiones en español.

Holy Family Our-Risen Savior, N6499 Cty Y, Eldorado/Woodhull, from 6:30 to 7:30 pm every Wednesday night. 
Presentation, 705 Michigan Ave., North Fond du Lac, Thursdays, beginning at 6:30 pm. Adoration and Confession will take place from 6:30 to 7:30 pm. Mass will follow at 7:30 pm. Cor Jesu takes place at Presentation the first Thursday of each month.
Become an Adorer
The Eucharistic adoration chapel is in need of having additional adorers at the following hours. Please let Lisa Sutton know if you are interested in becoming a scheduled adorer at sutton_family01@charter.net or call 579-2895 or visit https://fonddulac.weadorehim.com.
"The Christian life needs to be nourished by attentive listening to God's word and, above all, by the cultivation of a personal relationship with the Lord in Eucharistic adoration, the privileged 'place' for our encounter with God." Pope Francis, Message, 27th November 2016
Sunday:

6:00 am, 12:00 pm, 2:00 pm, 3:00 pm, 5:00 pm, 8:00 pm

Monday:

12:00 pm, 4:00 pm, 5:00 pm, 6:00 pm

Tuesday:

12:00 pm, 2:00 pm**

Wednesday:

12:00 pm, 4:00 pm

Thursday

: 5:00 am, 7:00 am, 9:00 am, 3:00pm, 6:00 pm, 7:00 pm, 9:00 pm

Friday:

12:00 pm, 2:00 pm, 7:00 pm, 8:00 pm, 9:00 pm

Saturday:

5:00 am, 10:00 am**, 11:00am, 12:00 pm, 7:00 pm, 8:00 pm, 9:00 pm
All hours would have a prayer Partner.
If you are interested in signing up as a regular adorer or as a substitute, visit https://fonddulac.weadorehim.com or contact:
Lisa Sutton
Email: Sutton_family01@charter.net
Phone: (920) 579-2895
Adoration Guidelines for Dedicated Adorers
How to Pray During Adoration
"What do We Do in Adoration?"
"The Eucharist and Prayer before the Blessed Sacrament"
Carlo Acutis: Living a Eucharistic Life