Holy Family offers Christian Formation to be formed as disciples in Christ, a living witness to the Good News. The Christian Formation staff serves to help and invite all people to enter fully into the Sacramental life of the Church. So that, through the power of the Holy Spirit, we all may love God and follow Jesus Christ in faith, worship and witness.
2021-22 Confirmation Calendar
Confirmation Postcard (2021-22)
REGISTER for 9th-10th Grade Formation
2021-22 HS General Formation Calendars
High School Faith Formation (2021-22)
REGISTER for 1st-8th Yearly Formation
2021-2022 Grade 1-8 Faith Formation Calendar
Yearly Faith Formation Postcard (2021-22)
2021-2022 First Eucharist & Reconciliation Calendar
First Eucharist & Reconciliation Postcard (2021-22)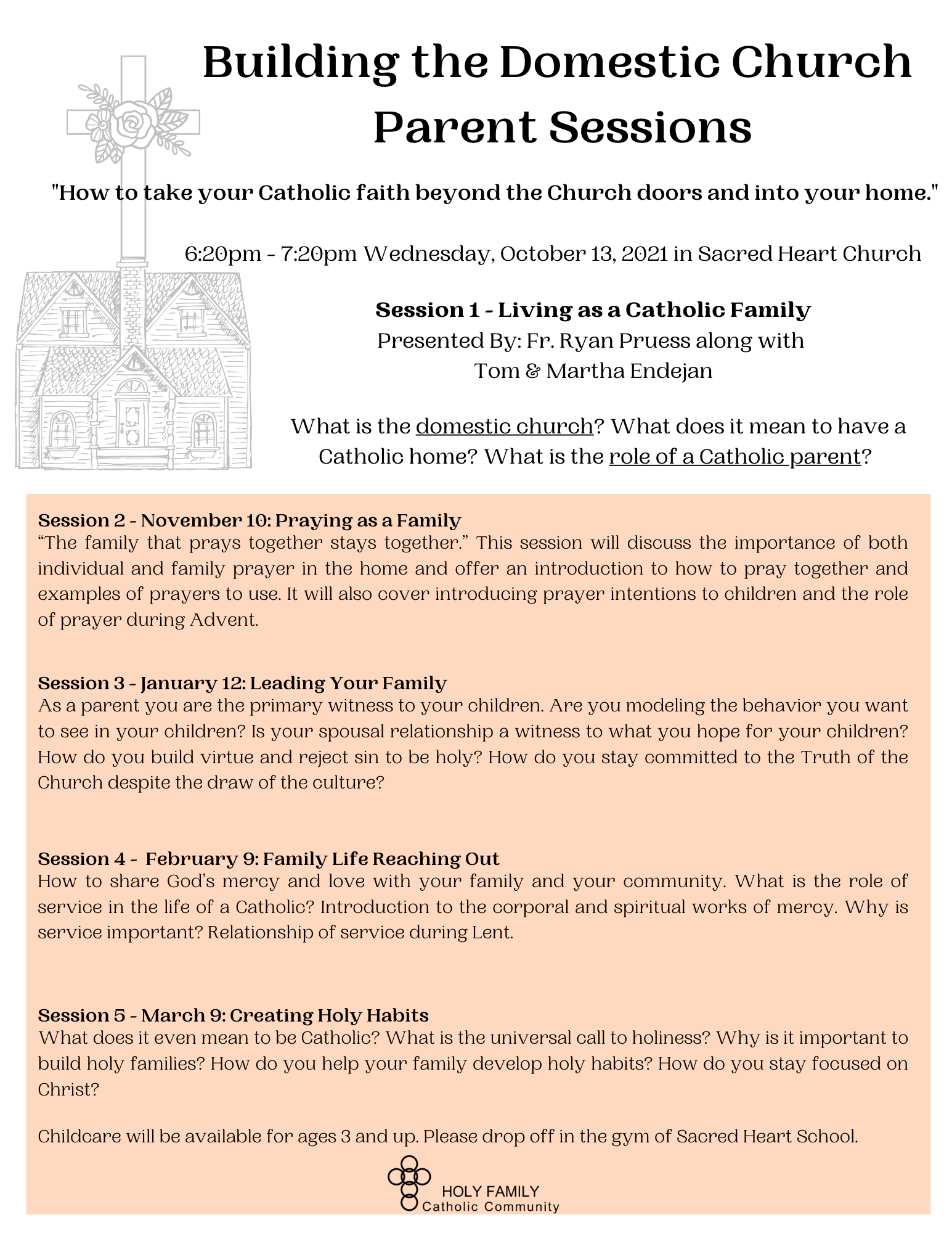 Building the Domestic Church Parent Sessions
All parents are invited to attend Holy Family's Building the Domestic Church sessions, which will teach attendees how to take their Catholic faith beyond the church doors and into their home. The first session, set for 6:20-7:20 pm on Wednesday, October 13 at Sacred Heart Church, will discuss the topic "Living as a Catholic Family" presented by Fr. Ryan Pruess and Tom and Martha Endejan. Learn what the domestic church is, what it means to have a Catholic home, and what the role is of a Catholic parent at the session.
The rest of the schedule is as follows:
November 10: Praying as a Family
January 12: Leading Your Family
February 9: Family Life Reaching Out
March 9: Creating Holy Habits
Christian Formation Programs