Adult Ministry and Formation seeks to fulfill the vision of Holy Family by you asking you to be a disciple in Jesus Christ, a living witness to the Good News!
"God, infinitely perfect and blessed in himself, in a plan of sheer goodness freely created man to make him share in his own blessed life. For this reason, at every time and in every place, God draws close to man. He calls man to seek him, to know him, to love him with all his strength. He calls together all men, scattered and divided by sin, into the unity of his family, the Church.  To accomplish this, when the fullness of time had come, God sent his Son as Redeemer and Savior. In his Son and through him, he invites men to become, in the Holy Spirit, his adopted children and thus heirs of his blessed life." (Catechism of the Catholic Church, 1)
Our response then is to enter into the great Plan of God. We are called to come into this beautiful friendship with God, here on earth and forever in heaven. Adult Formation, in light of God's goodness and good will, offers opportunities to answer the deepest questions we all have, strengthen faith, encourage conversion of heart and to share that good news of Jesus with others.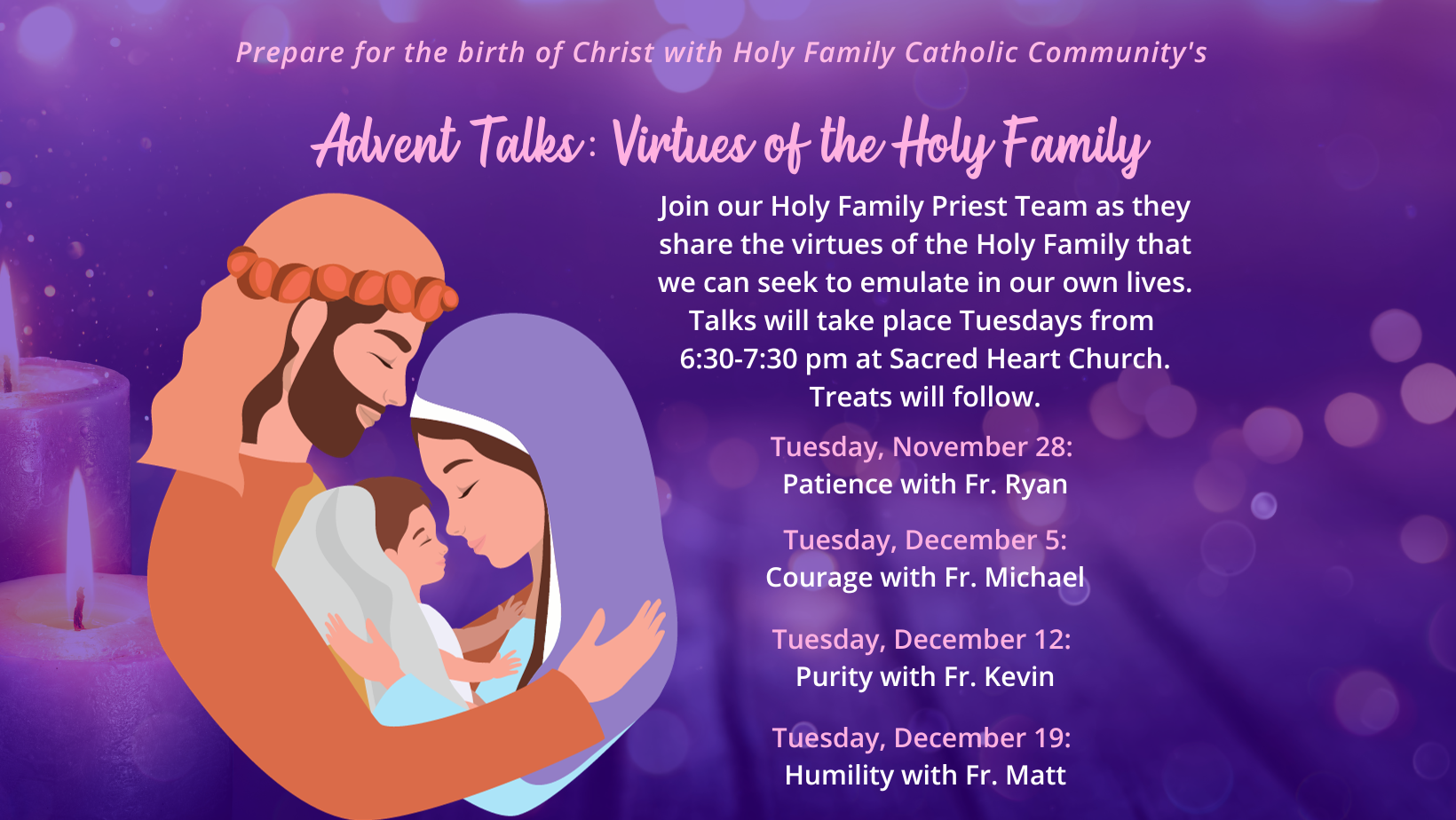 Advent Priest Talks: Virtues of the Holy Family
Join our Holy Family Priest Team as they share the virtues of the Holy Family that we can seek to emulate in our own lives. Talks will take place Tuesdays from 6:30-7:30 pm at Sacred Heart Church, November 28-December 19. Treats will follow. The schedule is as follows:
Tuesday, November 28: Patience with Fr. Ryan

Tuesday, December 5: Courage with Fr. Michael

Tuesday, December 12: Purity with Fr. Kevin

Tuesday, December 19: Humility with Fr. Matt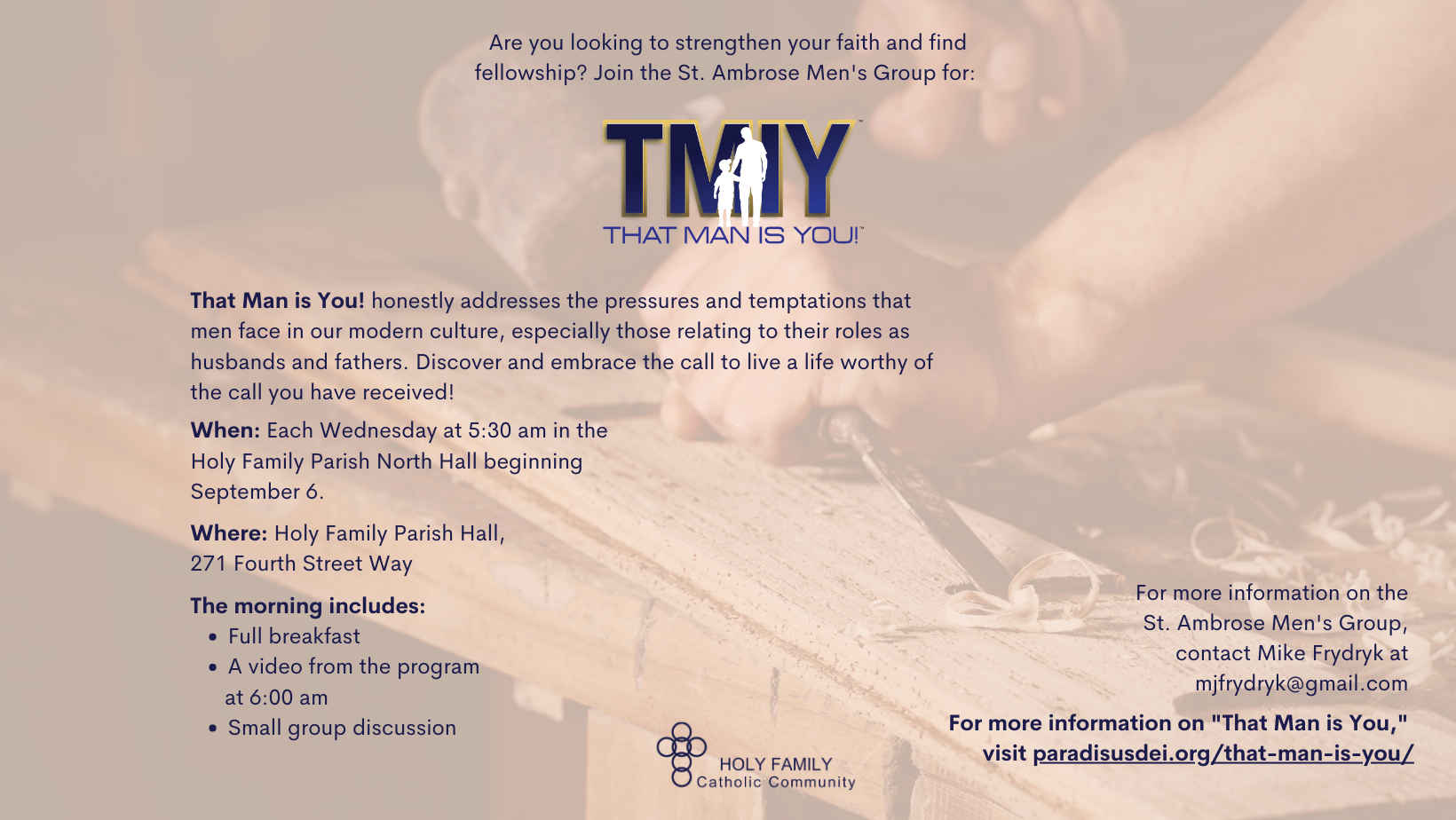 That Man is You!
Every Wednesday morning from 5:30 to 6:45 am in the Holy Family Hall, men are invited to attend the St. Ambrose Men's Group for the "That Man is You!" program beginning September 6. That Man is You! honestly addresses the pressures and temptations that men face in our modern culture, especially those relating to their roles as husbands and fathers. The morning includes a full breakfast, a video for the program at 6:00 am, and small group discussion. This year's theme is "Worthy of the Call" and will focus on discovering and embracing the call to live a life worthy of the call you have received!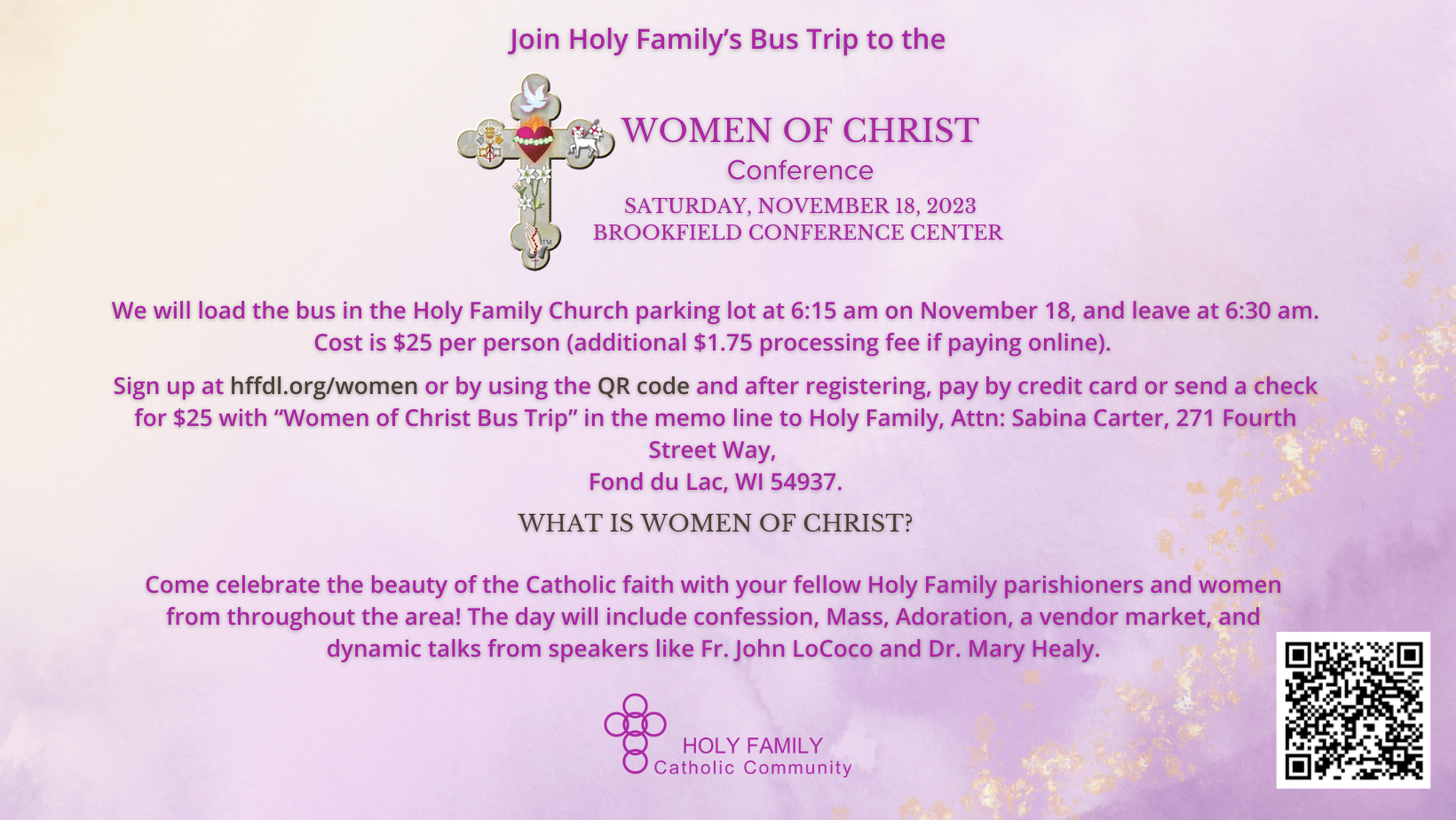 Join your fellow parishioners on the Holy Family Bus Trip to the Women of Christ Conference on Saturday, November 18. The bus will board in the Holy Family Church parking lot at 6:15 am and leave at 6:30 pm and travel down to the Brookfield Conference Center.
The Women of Christ Conference provides women the opportunity to celebrate their Catholic faith with women from throughout the area. The day will include confession, Mass, Adoration, a vendor market, and dynamic talks from speakers like Fr. John LoCoco and Dr. Mary Healy.
The bus trip will cost $25 per person (an additional $1.75 processing fee if paying online). Register using the form below and pay online with credit card or send a check for $25 with "Women of Christ Bus Trip" in the memo line to Holy Family, Attn: Sabina Carter, 271 Fourth Street Way, Fond du Lac, WI 54937.
Click here to sign up.