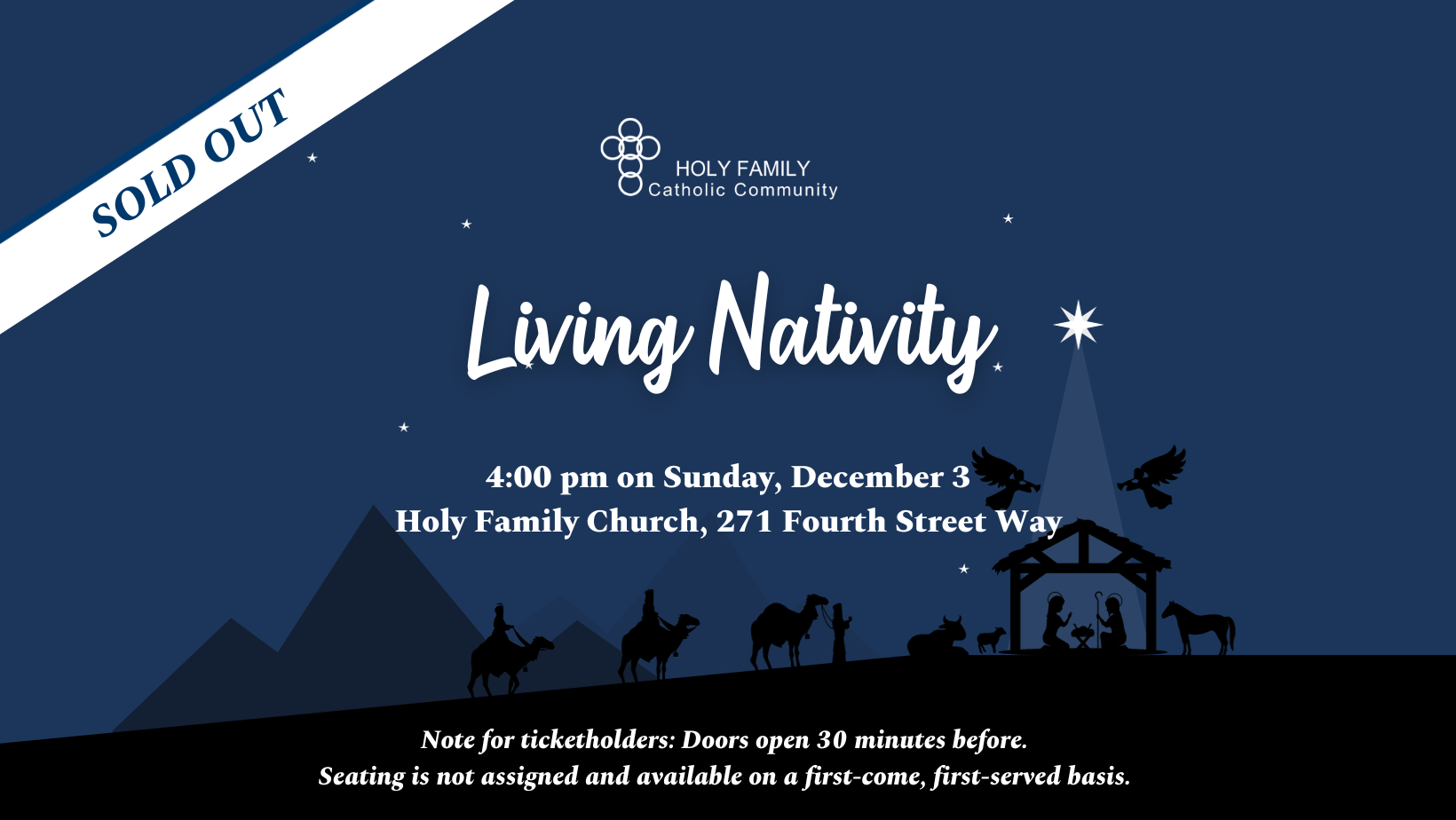 Living Nativity to return to Holy Family December 3
Our Living Nativity will return on Sunday, December 3 to Holy Family Church. For the Living Nativity, Holy Family transforms into Bethlehem with the focal point—the manger—taking center stage on the altar. Members of Holy Family's multiple choirs lend their voices to the event, singing traditional Christmas songs, such as "Angels We Have Heard on High," "Rise Up Shepherd and Follow," "We Three Kings," and "the Hallelujah Chorus" from Handel's "Messiah," as Holy Family staff and volunteers play the roles of shepherds, angels, and the Holy Family of Mary, Joseph, and Jesus. As no Nativity scene is complete without animals, audience members seated in pews watch as goats, sheep, donkeys, camels, and more are led up the aisle and gather round the altar.
TICKETS ARE NOW SOLD OUT!
Volunteers Needed
To power this beautiful retelling of the Nativity story, we are in need of volunteers to take on various roles, including assisting in building the set, moving pews, setting up risers, and cleaning up. If you are interested in assisting, please contact Eva Thelen-Dunphy at the Parish Office at ethelen@hffdl.org or (920) 921-0580 ext. 201. 
Volunteers are needed on December 3 for the below times and duties:
1 :30 – 3:00 pm: Set-up – Need builders and people with strength and power tools
Build the set
Haul away front sets of pews
Set up risers and chairs in choir area
6:00 pm: Clean-up
Help sort costumes and put them away in the basement
Take down the set
Tear down the choir area additional risers/ seating
Sweeping/ vacuuming/ mopping