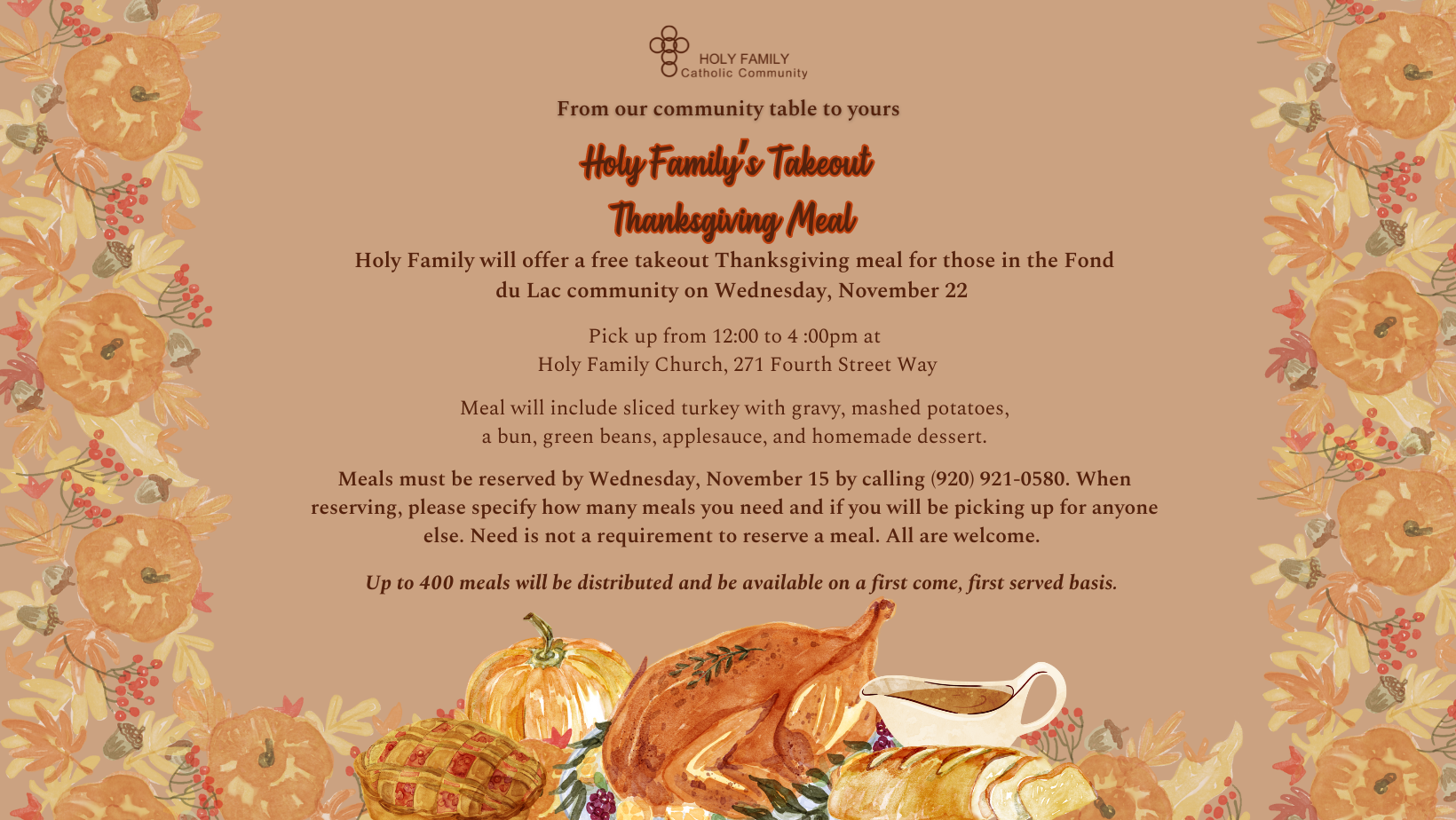 Holy Family to offer 400 free, takeout Thanksgiving Meals on November 22
Holy Family will offer a free takeout Thanksgiving meal for people in the Fond du Lac community on Wednesday, November 22. Those who reserve a meal can pick it up from noon to 4:00 pm at Holy Family Church. The meal will include sliced turkey with gravy, mashed potatoes, a bun, green beans, applesauce, and homemade dessert. 400 meals are available on a first-come, first-served basis beginning at 8:00 am on Wednesday, November 1 and must be reserved by Wednesday, November 15 by calling (920) 921-0580. When reserving, please specify how many meals you need and if you will be picking up for anyone else. Need is not a requirement to reserve a meal. All are welcome.
If you would like to contribute to the meal, we are seeking donations of applesauce cups and canned green beans, as well as monetary contributions to offset the price of turkey, buns, and potatoes. Please bring all donations to the Parish Office.
La Sagrada Familia ofrecerá 400 comidas para recogerlas de Acción de Gracias a los miembros de la comunidad
Ofreceremos una comida de Acción de Gracias gratuita para llevar, para las personas de la comunidad de Fond du Lac el miércoles 22 de noviembre. Aquellos que reserven una comida pueden recogerla desde el mediodía hasta las 4:00 p. m. en la Iglesia de la Sagrada Familia. La comida incluirá pavo en rodajas con salsa, puré de papas, panecillo, judías verdes, puré de manzana y postre casero. 400 comidas están disponibles por orden de llegada a partir de las 8:00 am del miércoles 1 de noviembre y deben reservarse antes del miércoles 15 de noviembre llamando al (920) 921-0580. Al reservar, especifique cuántas comidas necesita y si las recogerá para alguien más. La necesidad no es un requisito para reservar una comida. Todos son bienvenidos.
Si desea contribuir a la comida, buscamos donaciones de tazas de puré de manzana y judías verdes enlatadas, así como contribuciones monetarias para compensar el precio del pavo, los panecillos y las patatas. Por favor traiga todas las donaciones a la oficina parroquial.