Support the Holy Family Rectory Campaign
In 2020, Holy Family Catholic Community conducted a facility study to look at maintenance needed at our sites and rectories. Quickly, it became clear: our rectories were in need of significant repairs that would cost hundreds of thousands of dollars to make.
A sampling of these repairs include:
The Sacred Heart Rectory, built in the 1970s, needs a new boiler and boiler piping system, new roof, windows. Much of the furniture, carpeting, flooring, and countertops are original to the home. The cost of these repairs is estimated at $450,000.
The St. Peter Rectory experiences substantial leaking through its basement walls, which, along with the foundation will need to be replaced in the near future.
Holy Family was faced with the question: Make these repairs, or build a new rectory, which would benefit the lives of our priest team and parishioners alike?
Conversations with the Holy Family Pastoral and Finance Councils, Rectory Committee, the parish priest team, and staff found support for a new rectory for the opportunities it provided. Rather than making investments in aging facilities, investing in a new rectory near Holy Family Church allows for the parish to direct funds to other maintenance and repairs needed at our six sites.
We are seeing an increasing number priests and students in the seminary seeking to live in community. By creating a rectory that would offer aspects of both communal and private living, Holy Family Catholic Community could draw more priests to select the parish as their placement and offer a home to senior priests in our area if they, too, desire this setting.
Photos courtesy of James Meyer Photography
While originally we planned to construct a new rectory, recent events have caused us to re-evaluate the direction of the project. 
Due to increased construction prices, building our new rectory now would cost $2.3-$2.5 million when accounting for materials, construction, fixtures, and furniture. Around the same time, another opportunity presented itself. Just across County Road K from Holy Family Church, a home large enough to accommodate our priest team went up for sale.
The nearly 9,000-square-foot home is situated on 51 acres of land across County Road K from Holy Family Church. While we know this rectory would not be on our current Holy Family Church land, it would expand our campus across County Road K and provide new and exciting opportunities for future development needs while at the same time providing a home for up to six priests.
Renovations are needed to convert the property from a home into a rectory, but the exciting news is that the cost of the home, surrounding acreage, and these changes will come in below our original goal of $2 million. The rectory will also be move-in ready within a matter of months compared to the long wait of two years expected with new construction. 
As we believe it meets all the hopes and expectations we had for building a new rectory, and, is as of right now, the most fiscally responsible decision for the parish, we made an offer on the property and it was accepted. This offer is contingent on a home inspection and the approval of the Archdiocese of Milwaukee, and both of these requirements have been met. 
We expect the sale to close on November 5, and if renovations go as planned, hope to have an open house come spring. 
To see how the newly constructed rectory and this property compare, please look at the graphic below.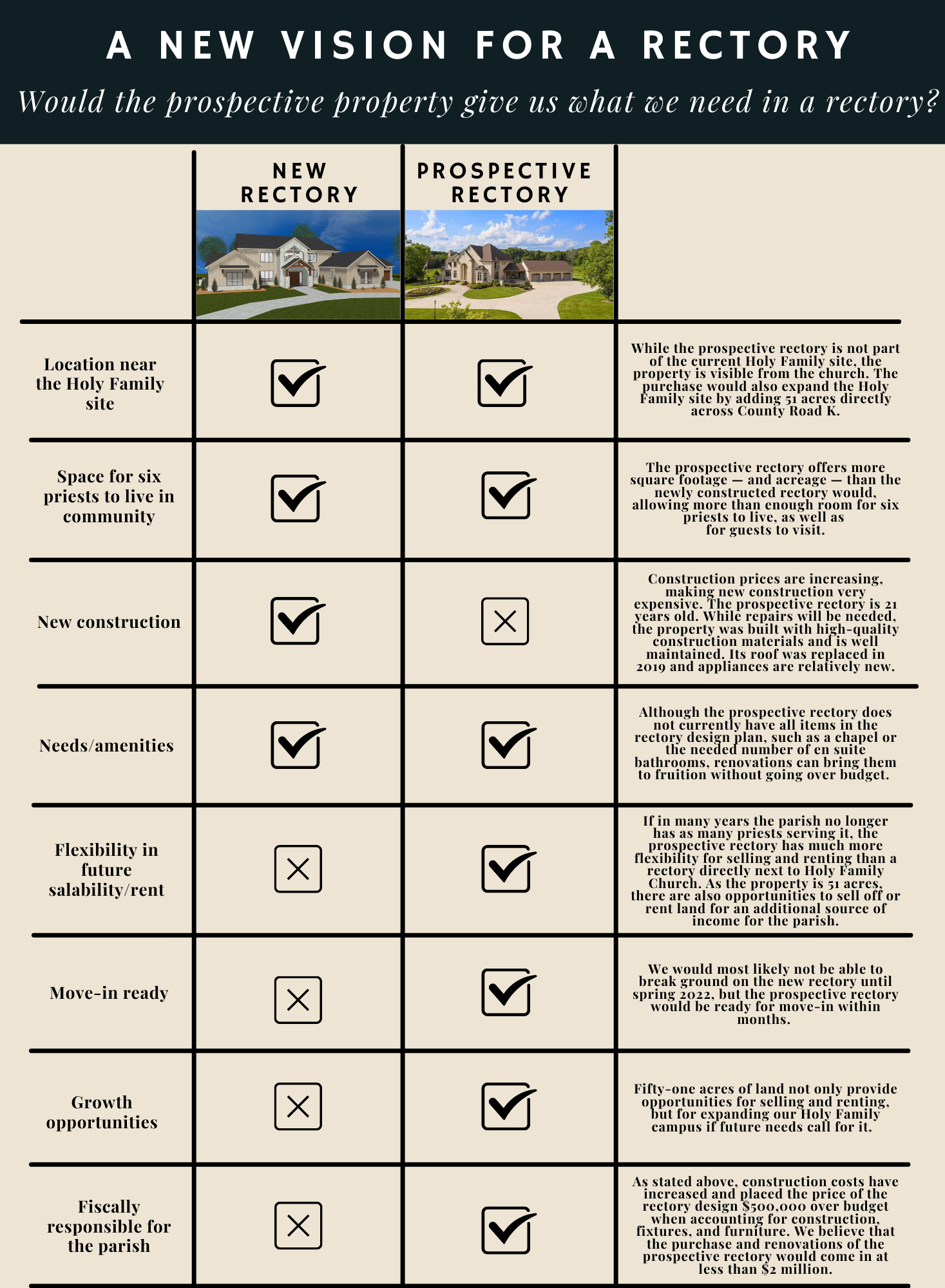 How to Give
If you are interested in contributing to the Holy Family Rectory Project, you can do so in the following ways:
Check: Please make your check out to Holy Family Catholic Community and note "rectory campaign" in the memo line. You will receive a letter from Holy Family, which will serve as your receipt. 
Online: Click the

 

Donate

 

button at the top of this page, and you will be taken to our online donation system, WeShare. You will receive a letter from Holy Family which will serve as your receipt.
Stock:

 

Contact the Holy Family's Financial Advisor Patrick Ellestad at Edward Jones. His email is

 

Patrick.ellestad@edwardjones.com

 

and his phone number 920-907-9511. You will receive a letter from Holy Family which will serve as your receipt.