Holy Family Parish Census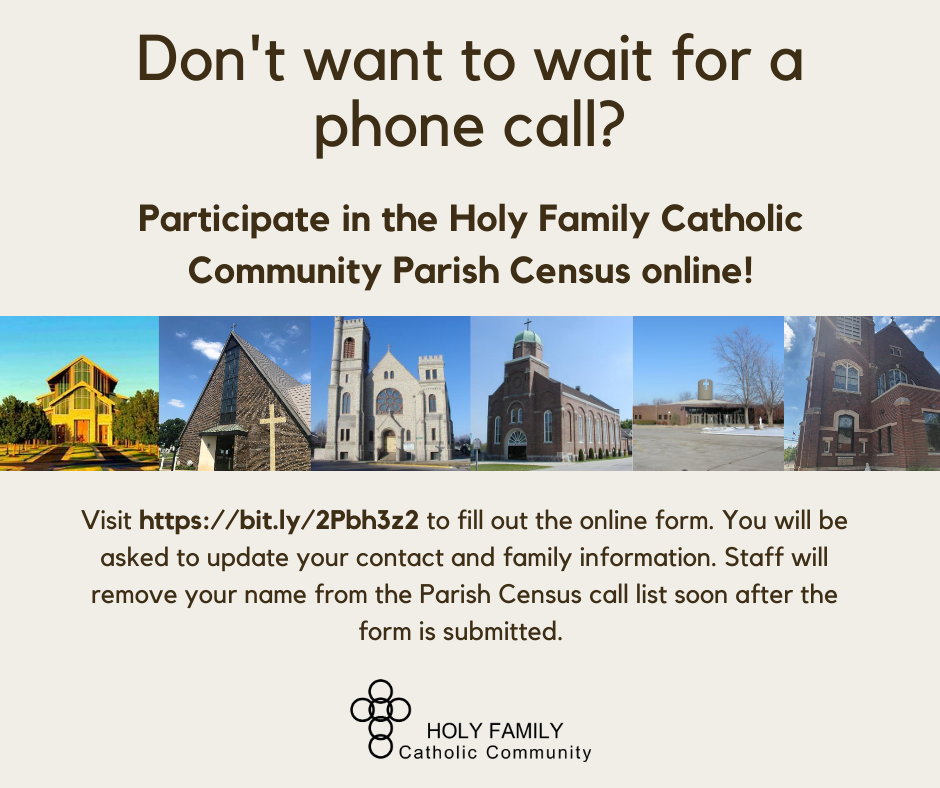 Holy Family Catholic Community is currently conducting its Parish Census to update the contact and family information of our members. Using the phone numbers listed in our records, staff will contact members for a short phone call to ask them to update their phone number, street address, email address, and cell phone numbers. Staff will also ask information about family members, such as if an older child should no longer be listed under their family, but as their own member, or if the child should be marked inactive because they no longer live in the area. 
If you do not want to wait for a call, parishioners can update their information online. Through the simple form, parishioners can mark if they are an active or inactive member, fill out their contact information for their immediate family members and themselves, and make any updates to their family information, such as Sacrament history, and if a child has moved out and is now their own member. Soon after you submit your form, your name will be removed from the Holy Family Catholic Community Parish Census contact list and you will not receive a phone call. Utilize the form below to update your information. 
We will not share this information with anyone, but simply use it as a way to keep our records up to date and contact you if needed. As many people have dropped their landlines and moved to cell phones, it is important we have current numbers and emails to continue to reach people and share information. It also allows us to make our communication more cost effective and timely, as contacting you through email comes with a much lower cost than mailings, and arrives to you much more quickly. If we cannot reach you when we call, we will leave a message asking you to call the Holy Family Parish Office to update your information. If the phone number we have listed for you is now disconnected, or we do not hear back from you, we will send a letter requesting you contact us to make any changes needed to your information. 
Reaching out to all of our parishioners will take a great deal of time, so please understand that while some members may receive their call in the next week, you may not receive a call for a month or longer. We look forward to speaking with you! Please check back to this page for more information as we continue working on our census. For more information, call Holy Family Parish Office at (920) 921-0580.